RCC 12th Meeting:
Risk-Sensitive Development in Asia
Location:
Thimphu, Bhutan
Partnership:
Department of Disaster Management, Ministry of Home and Cultural Affairs (MoHCA)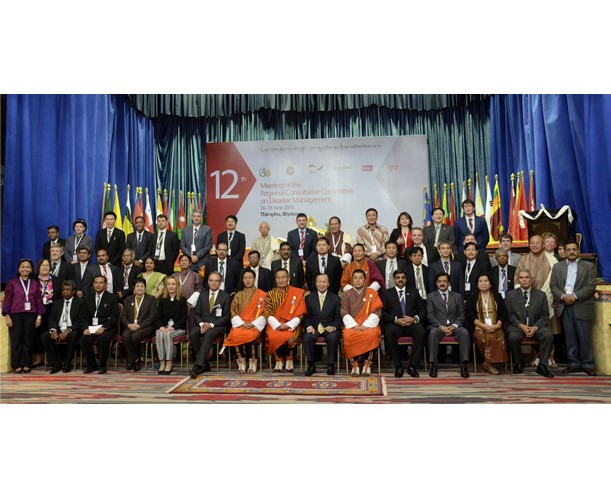 Summary:
Meeting participants discussed the implementation of actions outlined in the SFDRR and agreed the RCC would continue to provide technical solutions in the implementation and support in knowledge exchange.
Outcome:
Member countries adopted the Thimphu Statement which highlights ways member countries can transform the RCC mechanism to support meaningful implementation of the SFDRR, including: building knowledge of government officials and stakeholders, mainstreaming DRR into development, developing CBDRM strategies, undertaking DRR assessment and collection of DRR data. ADPC in its capacity as the Secretariat would continue to perform the role of technical advisor and develop the capacity of member countries.
Gallery
Visit our gallery. Click here.
Development Partners
The 12th RCC Meeting was co-hosted by the Ministry of Home and Cultural Affairs (MoHCA) and the Department of Disaster Management (DDM), Bhutan; and Asian Disaster Preparedness Center (ADPC) with support from the German Government through GIZ.