COUNTRY INFORMATION
Population: Approximately 38 million
Capital: Kabul
GDP (Million US$): $19,630
General climate: Arid to semi-arid climate with large temperature differences between altitudes and between warm and cold seasons.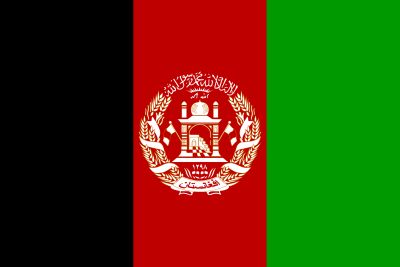 Risk Summary
– 9 million affected, 20,000 fatalities since 1980
– Floods are most common and cause average annual damage of $54 million
– 12,000 fatalities accounted for by earthquakes and average annual damage of $80 million
– 2 million people and estimated 10,000 kilometers of roads are exposed to avalanches
Institutional Framework for Disaster Management
National Disaster Management Commission (NDMC)
Principle body for setting out national policy directions towards reducing disaster risks and responding to emergencies. Members of the NDMC represent key sectors critical to managing disasters
Afghanistan National Disaster Management Authority (ANDMA)
The ANDMA, under the Office of the State Minister for Disaster Management and Humanitarian Affairs (DMHA), was established in 1973 and integrated into the ministry in 2015. The ANDMA, made up of seven directorates distributed across 37 provinces, is the principal executing body at the national level that coordinates all disaster risk reduction, emergency response and recovery activities. It is also the focal point and national platform for reporting on the Sendai Framework and acting as the Secretariat to the NDMC.
National Lead Ministries
Made up of international organizations involved in disaster response, relief, rehabilitation and mitigation. Coordinated by the ANDMA under direction of the National Commissioner.
Provincial Governor's Office
Made up of the Province level Disaster Management Committees/Commissions (PDMCs), including Line Ministry Offices, who form a link between National disaster Management processes and sub-national processes at the provincial, district and local level. PDMCs are headed by the Provincial Governor and supported by representatives.
District Governor's Office
The District level Disaster Management Committee (DDMC), headed by the District Administrator, and supported by government officials and respective community representatives, with support from District Development Assembly (DDA), Municipalities and other concerned agencies.
Local-level Implementing Partners
Non-government organizations and Community Development Councils directly involved in development and emergency response activities with the community. They work to mainstream risk reduction into development and local governance programs. Shuras and other community institutions, including schools and hospitals, directly reach communities in need of assistance during disasters.
National Disaster Management Strategy
Afghanistan Disaster Management Strategy 2014-2017 provides an outline for the coordination and collaboration within the Ministry of Rural Rehabilitation and Development (MRRD) to implement programs that benefit those affected by disasters. The strategy focuses on mainstreaming disaster management; capacity development; knowledge management; as well as addressing the social and economic needs of vulnerable groups. (A subsequent DRR strategy has been officially endorsed but has not been translated into English).