COUNTRY INFORMATION
Population: Approximately 163.5 million
Capital: Dhaka
GDP (Million US$): $288,424
General climate: Tropical monsoon climate with high temperatures, heavy rainfall, high humidity and three seasons (summer, winter, rainy season)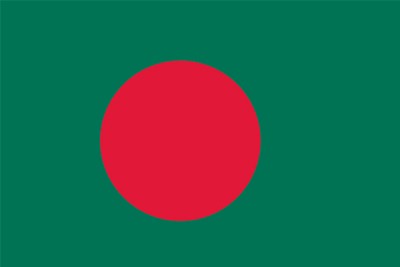 Risk Summary
– Flat, low-lying landscape and monsoon climates make it prone to recurring floods, cyclones, storm surge, river bank erosion, earthquakes, drought, salinity intrusion, fires and tsunamis
– Located in one of the most seismically active regions globally with Dhaka, Chittagong and Sylhet at risk of massive destruction
– Coastal areas are hit by cyclones almost every year, with storm surges and rough waves causing huge damage
Organizational Structure for Disaster Management
National Disaster Management Council (NDMC)
Led by the Prime Minister and exists to provide policy guidance for disaster risk reduction and emergency response.
National Disaster Management Advisory Committee (NDMAC)
Comprised of 47 members with representatives from parliament, government departments, universities, experts, business groups, insurance companies, financial organizations, research institutes, fire service and civil defense. Advise the NDMC and IMDMCC on technical matters and socio-economic aspects of disaster risk reduction and emergency response management.
Inter-Ministerial Disaster Management Coordination Committee (IMDMCC)
Coordinates national level policy making, planning, programming and implementation of measures for disaster risk reduction and emergency management. Chaired by the Minister of the Ministry of Food and Disaster Management, comprised of 33 members from all key ministries and the Bangladesh Red Crescent Society.
Ministry of Disaster Management
Responsible for coordinating national disaster management efforts across all agencies and acts as Secretariat to the NDMC. Coordinates field level activities carried out by two subordinate offices including the Department of Disaster Management (DDM) and the Cyclone Preparedness Program (CPP).
Department of Disaster Management
The DDM is responsible for information dissemination on natural disasters, including flood information at the community level, flood preparedness, awareness-raising, capacity-building, and relief and rehabilitation activities, with the support of district and upazila administrations.
National Plan for Disaster Management (2016 - 2020)
Building Resilience for Sustainable Human Development is an umbrella plan that provides guidance for relevant sectors and disaster management committees at all levels to prepare and implement their specific plans, guided by the Ministry of Disaster Management and Relief (MoDMR).
National Disaster Management Policy (2015)
The policy was formulated to define the national perspective on disaster risk reduction and emergency management through national objectives and strategies.
Standing Orders on Disasters
This provides guidelines on the roles and responsibilities of committees, Ministries and other organizations in disaster risk reduction and emergency management.
NDMO Communications Focal Point