COUNTRY INFORMATION
Population: 763,092
Capital: Thimphu
GDP (Million US$): $2,582
General climate: Alpine to temperate to subtropical with a monsoon season from June through September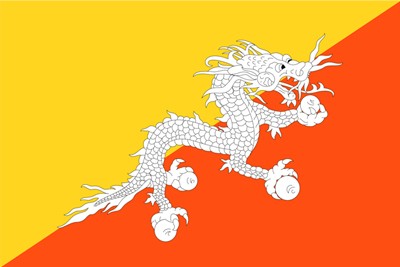 Risk Summary
– Exposed to floods, landslides, glacial lake outbursts and droughts
– Floods and landslides are triggered by heavy seasonal monsoon rains and glacial melt
– 2009 earthquake caused over $522 million in damages, affected 4,000 households and left 7,000 people with no access to adequate shelter
Institutional Framework
National Disaster Management Authority (NDMA)
The highest decision-making body on disaster management, led by the Prime Minister. The NDMA is responsible for approving national disaster management funds, directing agencies to mainstream DRR into their development plans, policies, programs and projects and provides strategic guidance to any agency on disaster management, including the Department of Disaster Management, Dzongkhag Disaster Management Committees among other agencies. The NDMA further establishes/commissions research and develops/provides training on disaster management.
Department of Disaster Management
Acts as the Secretariat and executive arm of the NDMA in laying down strategies and policies for disaster management; ensuring agencies mainstream DRR; preparing the National Plan in coordination with relevant agencies; formulating national guidelines, standards and procedures for disaster management; developing and implementing public education, awareness and capacity-building programs; developing standard training modules and curricula on disaster management, developing and maintaining the Disaster Management Information System; and ensuring the implementation of the Disaster Management and Contingency plan.
Inter-Ministerial Task Force
Comprised of technical experts from relevant agencies and is responsible for the review of hazard zonation, vulnerability maps; structural and non-structural measures; risk reduction activities; national standards; guidelines and operating procedures. It also provides technical assistance for the National Disaster Management and Contingency Plan, and advises on the setup of critical disaster management facilities.
Disaster Risk Management Strategy
The strategy is guided by the Disaster Management Act and focuses on strengthening institutional capacity on disaster management of Bhutan and the Five Year Planning process. The strategy is guided by government policies, principles, expected results and identifies priorities and focus areas to allow for priorities and focus to ensure efficient allocation of technical and financial resources.