COUNTRY INFORMATION
Population: 28,608,710
Capital: Kathmandu
GDP (Million US$): $29,040
General climate: Nepal has five climates, ranging from subtropical to arctic, depending on the altitude. It also has four major seasons (winter, spring, summer, autumn) and periods of monsoon rain (June to mid-September)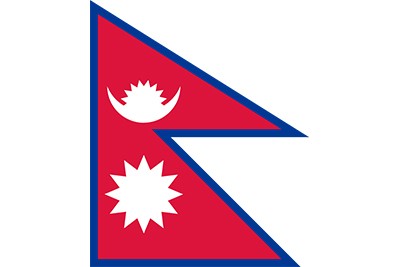 Risk Summary
– Exposed to seasonal flooding as a result of monsoon rains, as well as landslides across the mountainous areas
– Floods and droughts have caused extensive damage and the effects are expected to worsen as the amount of precipitation is predicted to increase by 15-20%
– Between 1990 and 2019, seismic events has caused $5 billion in damages and affected 6 million people
Disaster Management Institutional Mechanism
Ministry of Home Affairs (MoHA)
National Focal Agency on Disaster Management and the lead agency for implementing the Natural Calamity (Relief) Act of 1982. The MoHA assigns tasks through the Disaster Management Section and the National Emergency Operation Center under the Planning and Special Service Division.
Central Natural Disaster Relief Committee (CNDRC)
Chaired by the Home Minister, the CNDRC is in charge of preparing policies on preparedness, response and recovery as well as ensuring relief materials and funds are distributed during emergencies.
Regional Disaster Relief Committee (RDRC)
The RDRC, chaired by the Regional Administrator, is made up of government agencies and security agencies that are responsible for supporting and monitoring regional activities implemented by the DDRCs. The RDRC also formulates regional and district level disaster management plans.
District Disaster Relief Committee
Present in all 75 districts in Nepal and chaired by the Chief District Officer who is the highest-level government official in charge of disaster-related decisions. The DDRC is in charge of coordinating local committees and formulating district-level disaster management plans, as well as coordinating relief work during emergencies.
Local Disaster Relief Committee
Responsible for disaster management at the local-level and ensures distribution of emergency funds, and coordination of rescue and transportation to hospitals.
National Disaster Risk Reduction Policy and Plan
Natural Disaster Risk Reduction Strategic Action Plan (2018 – 2030) explains the planning framework that covers each stage of the disaster risk management cycle. The action plan provides guidance to government agencies, development partners, NGOs and the private sector in building resilient infrastructure and construction, as well as working to build a disaster resilient Nepal.
National Disaster Risk Reduction Policy (2018) is in line with the Disaster Risk Reduction and Management Act of 2017 and is the first policy that provides long-term guidance towards disaster risk reduction and management.